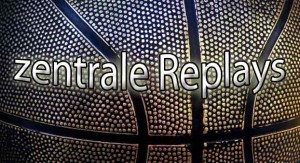 Die Video Replays der Referees werden ab nächster Saison zentralisiert zur Verfügung gestellt. Die Replays sollen somit schneller, besser und effizienter werden.
Konkret bedeutet es, dass das Videomaterial den Referees nun nicht mehr vom lokalen TV-Sender, sondern bereits aufbereitet aus einer zentralen und neutralen Stelle zur Verfügung gestellt wird. In der zentralen Stelle werden NBA-Mitarbeiter dauerhaft sitzen, die Spiele schauen und das Material aufbereiten. Im Idealfall ist die Entscheidung dann bereits klar, wenn die Schiedrichter den Monitor an der Seitenlinie erreichen, und die richtige Entscheidung kann einfach mitgeteilt werden.
Rod Thorn, NBA president basketball operations, sagt zur Änderung der Replays:
"When the referees go over to the side, in many instances the [central replay center] will already know what happened and they'll be able to tell the referee, which will hopefully take less time."
Zu häufig stört es den Spielfluss und dauert eine gefühlte Ewigkeit, wenn gegen Ende mancher Spiele immer und immer wieder der Videobeweis genutzt wird. Die Liste der Dinge, die per Video Replay angefechtet werden können, ist in den letzten Jahren auf 14 gestiegen. Der richtige Schritt, besonders in der Endphase gibt es beim Basketball doch sehr häufig Unterbrechungen. Zudem sind bisher die lokalen TV-Stationen für die Bilder zuständig, da diese jedoch als parteiisch angesehen werden können, wurden in Vergangenheit bewusst die richtigen Kamerawinkel den Schiedrichtern vorenthalten um dem Heimteam einen Vorteil verschaffen zu können.
Wir meinen: Eine sehr gute Neuerung für die nächste Saison, von der Schiedrichter, Spieler und der Zuschauer profitieren werden.
Quelle: ESPN  | Artikelbild by dlritter / sxc.hu